Alright, it is time to start looking at this Educational tool called Kahoot! I have used some of the very basic settings for this app in the past. The extent to my knowledge so far has gone to using preset games (made by other teachers) and even making a couple of my own trivia games in order to review before tests or sum up a lesson.
So WHAT IS KAHOOT? Kahoot explains its website as: "Kahoot! is a game-based learning platform that makes it easy to create, share and play learning games or trivia quizzes in minutes. Unleash the fun in classrooms, offices and living rooms!" Ok, so how does it work? Watch the short video below to find out!
On the Kahoot website, you can create, play, and share games! It is a more fun way to discuss information, plus a great way to wrap up a class if you end a lesson early and have 10 min to spare at the end of the class. Many of the kids love the added competition and even learn quite a bit (which I can tell because we normally repeat the same game a couple times during a unit and see the growth from one to the next!). You can play individually or in teams, use a pre-made game or make your own (options are true/false, multiple choice, poll, slide, and puzzle). Educational options listed on the Kahoot! website include: introduce new topics, review content, teach a lesson, break the ice and reward, reinforce knowledge, run formative assessments, collect student opinions, focus on accuracy, turn learners into leaders, foster creativity and teamwork, connect with classrooms globally, and teach colleagues in PD sessions. Here is a video showing you how to make your own Kahoot!
Alright, now we know the jist of the app (which, by the way, you can use either the website or download the app to play), so let's discuss the policies to make sure that we know what we are getting ourselves into. Below is a chart in which I highlighted the most applicable information to teachers. If you need more info, feel free to click the heading and go to the site yourself! (Sorry the spacing is messed up! The more I type in the 3rd column, the further the first 2 go down, and there is no spacing there for me to backspace?!)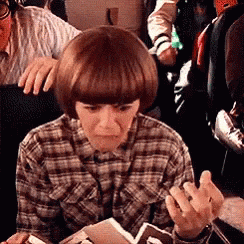 Privacy Policy
Inclusion and Accessibility Policy
Terms and Conditions
*Only requires certain personal information in order to create an account (email, username, password). Any additional information is your choice to provide, and if done so, you give permission for Kahoot! to use that information if you are an adult (age 13 or older in the U.S. and age 16 or older outside of the U.S.)
* No personal information is required to participate in a game
* Player Identifier is a game option that allows a host to track progress and scores of participants. Turning this paid feature on means that the host can see player emails and nicknames
* How Kahoot! tracks your information: through account services, offline (contacting customer service), other sources (if you register a microsoft or other account)
* How they use your information: providing services and fulfilling requests, providing you with pertinent marketing material, analyzing personal information for business reporting and providing catered services, participation in sweepstakes, contests, and promotions, and anonymizing/aggregating personal info.
* Who your information may be shared with: a third party in the case of a contest, or that supplies a service to Kahoot! such as information technology, website hosting, data analysis, etc.
* Kahoot! also uses and discloses personal information in accordance with the law
* Kahoot! may also use your cookies, browser information, the app, or other sources to track information such as: browser and device information, app usage, demographic information, and aggregated information
Kahoot! believes:
* Learning should include everyone
* Learning shouldn't have any barriers
* Diversity is an asset and strongly encouraged
* They do not discriminate or exclude based on any circumstance
* They are compliant with Web Content Accessibility Guidelines (WCAG), making their website perceivable, operable, and understandable

This section is broken down into 17 categories:
1) Welcome
2) Responsible Use and Conduct – You agree to use these resources only for the purposes attended and outlined (see Acceptable Use)
3) Changes to agreements – they reserve the right to change the terms without notice
4) Service Plans – Please see school or business payment plans. There is a free basic plan that cannot be used for commercial purposes.
5) Payments, upgrades, and cancellations
6) Licensed rights – users have a limited, non-exclusive, revocable right to use the website or app
7) Third Party Applications
8) User Generated Content – you grant Kahoot! full access to whatever you produce on their website or app
9) DMCA and User Content reporting
10) Organizations
11) Account security
12) Term and termination
13) Warranty and Disclaimer – service is provided as available without warranty
14) Limitation – if you are dissatisfied, uninstall and quit using!
15) Third Party Rights
16) Misc
17) Governing Law / Jurisdiction